Central America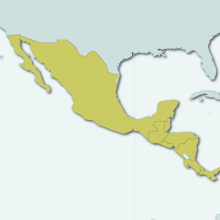 Among the many compelling UCSF projects in Central America, studies of the genetics of biopolar disease in Costa Rica and viral pathogens associated with dengue-like symptoms in Nicaragua stand out.
Much of UCSF's work in this region is in Mexico. Projects there range from efforts to develop new drugs to treat schistosomiasis, to clinical trials for hepatitis C medication, to capacity building around cardiovascular disease policy, 
Related studies are looking at the health risks of immigrants from Central America to the United States.
Archived Projects: 136
| Project | Investigator | All Locations | Start date | End date |
| --- | --- | --- | --- | --- |
| UCSF-Mexico Collaborative International Health Program in Internal Medicine | John Peabody, MD, PhD | Mexico | | |
| International AIDS Education and Training Center | E. Michael Reyes, MD, MPH | Ethiopia, Kenya, Madagascar, Malawi, Mozambique, Rwanda, Somalia, Uganda, Tanzania, Zambia, Zimbabwe, Angola, Cameroon, Gabon, Egypt, Morocco, Sudan, Tunisia, Botswana, Namibia, South Africa, Swaziland, Benin, Burkina Faso, Ivory Coast, Gambia, Ghana, Guinea-Bissau, Mali, Niger, Nigeria, Senegal, Togo, Kyrgyzstan, China, Bangladesh, India, Iran, Nepal, Pakistan, Sri Lanka, Cambodia, Indonesia, Viet Nam, Laos, Myanmar, Singapore, Thailand, Timor-Leste, Philippines, Georgia, Iraq, Lebanon, Yemen, Czech Republic, Estonia, Greece, Belize, Costa Rica, El Salvador, Guatemala, Honduras, Argentina, Bolivia, Brazil, Chile, Colombia, Ecuador, Guyana, Paraguay, Peru, Venezuela, Antigua and Barbuda, Bahamas, Barbados, Dominica, Dominican Republic, Grenada, Haiti, Jamaica, Puerto Rico, Trinidad and Tobago, Australia | | |
| Case Series of ASG Device in Nigeria and Mexico | Suellen Miller, PhD, CNM, MHA | Nigeria, Mexico | | |
| AHEC/HETC - California Border Health Education Training Center | | Mexico | | |
| Global Health Sciences Clinical Scholars Program Immersion Experience | Haile Debas, MD | Kenya, Uganda, Tanzania, Botswana, Lesotho, South Africa, Thailand, Guatemala, Mexico, Nicaragua, Brazil, Peru | | |
| Public Health Trust Lead in Mexican Candies Grant Program - Education Materials | Stuart Heard, PharmD | Mexico | | |
| Doris Duke Charitable Foundation International Clinical Research Fellowship Program | Joel Palefsky, MD | Kenya, Uganda, Tanzania, Zimbabwe, Ghana, Cambodia, Thailand, Nicaragua | | |
| Metagenomics for Detection and Discovery of Viruses Associated with Acute Gastroenteritis in Mexico | Charles Chiu, MD, PhD | Mexico | | |
| University Consortium for Global Health | Haile Debas, MD | Ethiopia, Kenya, Tanzania, Zambia, Egypt, Botswana, Namibia, South Africa, Ghana, Mali, China, India, Pakistan, Viet Nam, Thailand, Israel, Mexico, Chile, Peru, Jamaica, Trinidad and Tobago | | |
| Molecular Epidemiology of the Human Immunodeficiency Virus in Mexico | | Mexico | | |
| Transcriptional Responses of Parasite and Host during Intestinal Colonization and Invasion by Entamoeba histolytica | | Mexico | | |
| Sangre Segura: An Epidemiological Study of Blood Transfusion Safety in the Mexico-U.S. Border Region | Edward Murphy, MD, MPH | Mexico, United States | | |
| Center for International AIDS Support, Training, and Evaluation (CIASTE) / University Technical Assistance Project in Support of the Global AIDS Program (GAP) | George Rutherford, MD | Ethiopia, Kenya, Malawi, Mozambique, Uganda, Egypt, Botswana, Namibia, South Africa, Ghana, China, India, Cambodia, Viet Nam, Thailand, Guatemala, Brazil, Trinidad and Tobago | | |
| Congenital Syphilis Elimination Cost-Effectiveness Analysis | James Kahn, MD, MPH | Burundi, Comoros, Djibouti, Madagascar, Malawi, Mauritius, Mozambique, Rwanda, Tanzania, Zambia, Zimbabwe, Cameroon, Central African Republic, Chad, Congo (Brazzaville), Gabon, Sao Tome and Principe, Sudan, Tunisia, Botswana, Namibia, South Africa, Swaziland, Benin, Burkina Faso, Ivory Coast, Ghana, Guinea, Mali, Nigeria, Sierra Leone, Togo, Kazakhstan, Kyrgyzstan, Uzbekistan, China, Mongolia, Afghanistan, Bangladesh, India, Maldives, Nepal, Sri Lanka, Cambodia, Indonesia, Viet Nam, Laos, Malaysia, Myanmar, Thailand, Philippines, Jordan, Oman, Saudi Arabia, Belarus, Czech Republic, Estonia, Germany, Hungary, Lithuania, Macedonia, Moldova, Romania, United Kingdom, Costa Rica, El Salvador, Guatemala, Honduras, Mexico, Panama, Argentina, Bolivia, Brazil, Chile, Colombia, Ecuador, Guyana, Paraguay, Peru, Uruguay, Antigua and Barbuda, Cuba, Dominica, Dominican Republic, Grenada, Trinidad and Tobago, Fiji, Kiribati, Papua New Guinea | | |
| Consortium of Universities of Global Health (CUGH) | Haile Debas, MD | Ethiopia, Kenya, Uganda, Tanzania, Zambia, Egypt, Botswana, Namibia, Ghana, Mali, China, India, Pakistan, Viet Nam, Thailand, Israel, Czech Republic, Guatemala, Mexico, Chile, Peru, Jamaica, Trinidad and Tobago | | |
| Conducting Infection Control Assessment and Developing Educational Materials for Mexico | Philip Hopewell, MD | Mexico | | |
| Strengthening Indigenous Food Identity and Minimizing Chronic Disease Risk | Margaret Handley, PhD, MPH | Mexico | | |
| An Affected SibPair Study of Attention Deficit Hyperactivity Disorder (ADHD) in Costa Rica | Carol Mathews, MD | Costa Rica | | |
| Global Health Sciences Clinical Scholars Program Immersion Experience | Haile Debas, MD | Kenya, Uganda, Tanzania, Botswana, Lesotho, South Africa, Thailand, Guatemala, Mexico, Nicaragua, Brazil | | |
| Master Agreement: International Network for Strategic Initiatives in Global HIV Trials/ICR INSIGHT | Steven Deeks, MD | Uganda, South Africa, Mali, Nigeria, China, Malaysia, Thailand, Mexico, Argentina, Brazil, Chile, Peru, Uruguay | | |
| Research Training in International Transfusion Safety | Edward Murphy, MD, MPH | South Africa, France, Honduras, Mexico, Argentina, Brazil | | |
| Building Health Promotion Infrastructure in Nicaragua | Christopher Stewart, MD | Nicaragua | | |
| Clients' Experiences with Legal Abortion Services in Mexico City: Support for Dissemination Activities | Cynthia Harper, PhD | Mexico | | |
| Improving Data on Private Healthcare Use and Provision | Dominic Montagu, DrPH | Burundi, Ethiopia, Kenya, Madagascar, Malawi, Mozambique, Rwanda, Somalia, Uganda, Tanzania, Zambia, Zimbabwe, Cameroon, Congo (Kinshasa), Sudan, South Africa, Benin, Ghana, Mali, Nigeria, Senegal, Sierra Leone, Togo, China, Bangladesh, India, Nepal, Pakistan, Cambodia, Indonesia, Viet Nam, Laos, Myanmar, Philippines, Yemen, El Salvador, Guatemala, Nicaragua, Peru, Papua New Guinea | | |
| Role of the Informal Sector in Mixed Health Services Project | Dominic Montagu, DrPH | Burundi, Ethiopia, Kenya, Madagascar, Malawi, Mozambique, Rwanda, Somalia, Uganda, Tanzania, Zambia, Zimbabwe, Cameroon, Congo (Kinshasa), Sudan, South Africa, Benin, Ghana, Mali, Nigeria, Senegal, Sierra Leone, Togo, China, Bangladesh, India, Nepal, Pakistan, Cambodia, Indonesia, Viet Nam, Laos, Myanmar, Philippines, Yemen, El Salvador, Guatemala, Nicaragua, Peru, Papua New Guinea | | |
| Global Health Sciences Clinical Scholars Program Immersion Experience | Christopher Stewart, MD | Burundi, Comoros, Djibouti, Eritrea, Ethiopia, Kenya, Madagascar, Malawi, Mauritius, Mozambique, Rwanda, Seychelles, Somalia, South Sudan, Uganda, Tanzania, Zambia, Zimbabwe, Angola, Cameroon, Central African Republic, Chad, Congo (Kinshasa), Congo (Brazzaville), Gabon, Sao Tome and Principe, Algeria, Egypt, Libya, Morocco, Sudan, Tunisia, Botswana, Lesotho, Namibia, South Africa, Swaziland, Benin, Burkina Faso, Cape Verde, Ivory Coast, Gambia, Ghana, Guinea, Guinea-Bissau, Liberia, Mali, Mauritania, Niger, Nigeria, Senegal, Sierra Leone, Togo, Kazakhstan, Kyrgyzstan, Tajikistan, Turkmenistan, Uzbekistan, China, North Korea, Mongolia, Afghanistan, Bangladesh, Bhutan, India, Iran, Maldives, Nepal, Pakistan, Sri Lanka, Cambodia, Indonesia, Viet Nam, Laos, Malaysia, Myanmar, Thailand, Timor-Leste, Philippines, Armenia, Azerbaijan, Georgia, Iraq, Israel, Jordan, Lebanon, Palestinian Territory, Syria, Turkey, Yemen, Albania, Belarus, Bosnia and Herzegovina, Bulgaria, Croatia, Kosovo, Latvia, Lithuania, Macedonia, Moldova, Montenegro, Romania, Russia, Serbia, Ukraine, Belize, Costa Rica, El Salvador, Guatemala, Honduras, Mexico, Nicaragua, Panama, Argentina, Bolivia, Brazil, Chile, Colombia, Ecuador, Guyana, Paraguay, Peru, Suriname, Uruguay, Venezuela, Antigua and Barbuda, Cuba, Dominica, Dominican Republic, Grenada, Haiti, Jamaica, Saint Lucia, Saint Vincent and the Grenadines, American Samoa, Fiji, Kiribati, Marshall Islands, Micronesia, Palau, Papua New Guinea, Samoa, Solomon Islands, Tonga, Tuvalu, Vanuatu | | |
| University of California Global Health Institute Women's Health and Empowerment Center of Expertise Post-Doctoral Fellowship Program | Craig Cohen, MD, MPH | Burundi, Comoros, Djibouti, Eritrea, Ethiopia, Kenya, Madagascar, Malawi, Mauritius, Mozambique, Rwanda, Seychelles, Somalia, South Sudan, Uganda, Tanzania, Zambia, Zimbabwe, Angola, Cameroon, Central African Republic, Chad, Congo (Kinshasa), Congo (Brazzaville), Equatorial Guinea, Gabon, Sao Tome and Principe, Algeria, Egypt, Libya, Morocco, Sudan, Tunisia, Botswana, Lesotho, Namibia, South Africa, Swaziland, Benin, Burkina Faso, Cape Verde, Ivory Coast, Gambia, Ghana, Guinea, Guinea-Bissau, Liberia, Mali, Mauritania, Niger, Nigeria, Senegal, Sierra Leone, Togo, Kazakhstan, Kyrgyzstan, Tajikistan, Turkmenistan, Uzbekistan, China, North Korea, South Korea, Mongolia, Afghanistan, Bangladesh, Bhutan, India, Iran, Maldives, Nepal, Pakistan, Sri Lanka, Cambodia, Indonesia, Viet Nam, Laos, Malaysia, Myanmar, Thailand, Timor-Leste, Philippines, Armenia, Azerbaijan, Georgia, Iraq, Jordan, Lebanon, Palestinian Territory, Syria, Turkey, Yemen, Albania, Belarus, Bosnia and Herzegovina, Bulgaria, Kosovo, Latvia, Lithuania, Macedonia, Moldova, Montenegro, Romania, Russia, Serbia, Ukraine, Belize, Costa Rica, El Salvador, Guatemala, Honduras, Mexico, Nicaragua, Panama, Argentina, Bolivia, Brazil, Chile, Colombia, Ecuador, French Guiana, Guyana, Paraguay, Peru, Suriname, Uruguay, Venezuela, Antigua and Barbuda, Cuba, Dominica, Grenada, Haiti, Jamaica, Saint Lucia, Saint Vincent and the Grenadines, American Samoa, Fiji, Kiribati, Marshall Islands, Micronesia, Palau, Papua New Guinea, Samoa, Solomon Islands, Tonga, Tuvalu, Vanuatu | | |
| Viral Discovery in Human and Animal Samples | Charles Chiu, MD, PhD | Rwanda, Uganda, Tanzania, Cameroon, Congo (Kinshasa), Congo (Brazzaville), Gabon, China, Bangladesh, Nepal, Cambodia, Indonesia, Viet Nam, Laos, Malaysia, Thailand, Mexico, Bolivia, Brazil, Peru | | |
| Advancing Academic Understanding of the Private Sector, and Strengthening the Social Franchising Community of Practice | Dominic Montagu, DrPH | Burundi, Ethiopia, Kenya, Madagascar, Malawi, Mozambique, Rwanda, Somalia, Uganda, Tanzania, Zambia, Zimbabwe, Cameroon, Congo (Kinshasa), Sudan, South Africa, Benin, Mali, Senegal, Sierra Leone, Togo, China, Bangladesh, India, Nepal, Pakistan, Cambodia, Indonesia, Viet Nam, Laos, Myanmar, Philippines, Yemen, El Salvador, Guatemala, Nicaragua, Peru, Papua New Guinea | | |
| RNA Interference and High-Content Image Analysis to Discover New Drug Targets to Treat the Tropical Disease Schistosomiasis | | Mexico | | |
| Oral Health is Global Health | John Greenspan, BDS, PhD | Nepal, Cambodia, Viet Nam, Philippines, Guatemala, Honduras, Mexico, Peru, Haiti, Jamaica, Micronesia, Vanuatu | | |
| Escaneo genomico completo del paciente con diabetes tipo 2 para la busqueda de nuevos marcadores de asociacion con enfermedad | Esteban Burchard, MD, MPH | Mexico | | |
| WHO Adolescent HTC Review Update (PO# 200660799) | George Rutherford, MD | Burundi, Comoros, Djibouti, Eritrea, Ethiopia, Kenya, Madagascar, Malawi, Mauritius, Mozambique, Rwanda, Seychelles, Somalia, South Sudan, Uganda, Tanzania, Zambia, Zimbabwe, Angola, Cameroon, Central African Republic, Chad, Congo (Kinshasa), Congo (Brazzaville), Equatorial Guinea, Gabon, Sao Tome and Principe, Algeria, Egypt, Libya, Morocco, Sudan, Tunisia, Western Sahara, Botswana, Lesotho, Namibia, South Africa, Swaziland, Western Africa, Benin, Burkina Faso, Cape Verde, Ivory Coast, Gambia, Ghana, Guinea, Guinea-Bissau, Liberia, Mali, Mauritania, Niger, Nigeria, Senegal, Sierra Leone, Togo, Kazakhstan, Kyrgyzstan, Tajikistan, Turkmenistan, Uzbekistan, China, Hong Kong S.A.R., China, North Korea, Japan, Macao S.A.R., China, Mongolia, Afghanistan, Bangladesh, Bhutan, India, Iran, Maldives, Nepal, Pakistan, Sri Lanka, Brunei, Indonesia, Viet Nam, Laos, Malaysia, Myanmar, Singapore, Thailand, Timor-Leste, Philippines, Armenia, Azerbaijan, Bahrain, Cyprus, Georgia, Iraq, Israel, Jordan, Kuwait, Lebanon, Oman, Palestinian Territory, Qatar, Saudi Arabia, Syria, Turkey, United Arab Emirates, Yemen, Albania, Andorra, Austria, Belarus, Belgium, Bosnia and Herzegovina, Bulgaria, Croatia, Czech Republic, Denmark, Estonia, Finland, France, Germany, Greece, Hungary, Iceland, Ireland, Italy, Jersey, Kosovo, Latvia, Liechtenstein, Lithuania, Luxembourg, Macedonia, Malta, Moldova, Monaco, Montenegro, Netherlands, Norway, Poland, Portugal, Romania, Russia, San Marino, Serbia, Slovakia, Slovenia, Spain, Sweden, Switzerland, Ukraine, United Kingdom, Belize, Costa Rica, El Salvador, Guatemala, Honduras, Mexico, Nicaragua, Panama, Argentina, Bolivia, Brazil, Chile, Colombia, Ecuador, French Guiana, Guyana, Paraguay, Peru, Suriname, Uruguay, Venezuela, Anguilla, Turks and Caicos Islands, Antigua and Barbuda, Aruba, Bahamas, Barbados, Cayman Islands, Cuba, Dominica, Dominican Republic, Grenada, Guadeloupe, Haiti, Jamaica, Martinique, Puerto Rico, Saint Kitts and Nevis, Saint Lucia, Saint Vincent and the Grenadines, Trinidad and Tobago, Bermuda, Canada, Greenland, U.S. Virgin Islands, American Samoa, Northern Mariana Islands, Australia, Cook Islands, Guam, French Polynesia, Fiji, Kiribati, Marshall Islands, Micronesia, Nauru, New Zealand, Niue, Palau, Papua New Guinea, Samoa, Solomon Islands, Tokelau, Tonga, Tuvalu, Vanuatu | | |
| CAPS/Fogarty Visiting Scientists and In-Country Research Training Activities | George Rutherford, MD | Ethiopia, Kenya, Rwanda, Uganda, Tanzania, Zambia, Zimbabwe, Egypt, Sudan, South Africa, Burkina Faso, Ghana, Nigeria, Senegal, Kazakhstan, China, Japan, India, Iran, Nepal, Cambodia, Indonesia, Viet Nam, Thailand, Philippines, Georgia, Jordan, Croatia, Czech Republic, Russia, Costa Rica, Guatemala, Mexico, Argentina, Brazil, Chile, Ecuador, Peru, Venezuela, Dominican Republic, Puerto Rico, Trinidad and Tobago, Canada | | |
| A Rapid Pan-Viral Microarray Diagnostic for Category A-C Biodefense Pathogens | Charles Chiu, MD, PhD | Uganda, India, Mexico | | |
| International Traineeships in AIDS Prevention Studies | George Rutherford, MD | Eastern Africa, Middle Africa, Northern Africa, Southern Africa, Western Africa, Central Asia, Eastern Asia, Southern Asia, South-Eastern Asia, Western Asia, Central America, South America, Caribbean | | |
| BMS-790052 with Peginterferon Alfa-2a and Ribavirin in Chronic Hepatitis C Genotype 1 Infected Subjects Who are Null or Partial Responders to Peginterferon Alfa plus | Mandana Khalili, MD | Mexico, Argentina, Puerto Rico, Australia | | |
| Study Evaluating the Safety and Efficacy of Fixed-Dose Once-daily Oral Aripiprazole in Children and Adolescents With Tourette's Disorder | | Germany, Hungary, Italy, Romania, Spain, Sweden, Mexico, Canada | | |
| Lifetime trauma exposure, Chronic Pain, Depression and PTSD in Mexican women: A pilot study | | Mexico | | |
| Whole Genome Analyses for Asthma in Latino Populations | Esteban Burchard, MD, MPH | Mexico, Puerto Rico | | |
| Consortium of Universities of Global Health (CUGH) - Leading the Way | Haile Debas, MD | Ethiopia, Kenya, Tanzania, Zambia, Egypt, Botswana, Namibia, South Africa, Ghana, Mali, China, India, Pakistan, Viet Nam, Thailand, Israel, Mexico, Chile, Peru, Jamaica, Trinidad and Tobago | | |
| Enhancing Mexican Capacity for Cardiovascular Policy Research | Kirsten Bibbins-Domingo, MD, PhD | Mexico | | |
| Detection and Discovery of Viral Pathogens Associated with Dengue-like Symptoms in Nicaragua | Joseph Derisi, PhD | Nicaragua | | |
| TB TO 2015 | Philip Hopewell, MD | Ethiopia, Kenya, Tanzania, Botswana, China, India, Nepal, Indonesia, Thailand, Mexico | | |
| Comparative Effectiveness of Policies to Reduce Dietary Salt Intake in the Pacific Rim | Kirsten Bibbins-Domingo, MD, PhD | China, Mexico, Argentina, Chile | | |
| Interventions for Improving Retention in Antiretroviral Therapy (ART) Programs (PO 200988865) | George Rutherford, MD | Burundi, Comoros, Djibouti, Eritrea, Ethiopia, Kenya, Madagascar, Malawi, Mauritius, Mozambique, Rwanda, Seychelles, Somalia, South Sudan, Uganda, Tanzania, Zambia, Zimbabwe, Angola, Cameroon, Central African Republic, Chad, Congo (Kinshasa), Congo (Brazzaville), Equatorial Guinea, Gabon, Sao Tome and Principe, Algeria, Egypt, Libya, Morocco, Sudan, Tunisia, Western Sahara, Botswana, Lesotho, Namibia, South Africa, Swaziland, Benin, Burkina Faso, Cape Verde, Ivory Coast, Gambia, Ghana, Guinea, Guinea-Bissau, Liberia, Mali, Mauritania, Niger, Nigeria, Senegal, Sierra Leone, Togo, Kazakhstan, Kyrgyzstan, Tajikistan, Turkmenistan, Uzbekistan, Mongolia, Afghanistan, Bangladesh, Bhutan, India, Iran, Maldives, Nepal, Pakistan, Sri Lanka, Brunei, Cambodia, Indonesia, Viet Nam, Laos, Malaysia, Myanmar, Thailand, Timor-Leste, Philippines, Armenia, Azerbaijan, Georgia, Iraq, Jordan, Lebanon, Syria, Turkey, Yemen, Albania, Bosnia and Herzegovina, Bulgaria, Croatia, Montenegro, Slovakia, Slovenia, Belize, Costa Rica, El Salvador, Guatemala, Honduras, Mexico, Nicaragua, Panama, Argentina, Bolivia, Brazil, Ecuador, Peru, Uruguay, Venezuela, Haiti, Jamaica | | |
| BMS-790052 with Peg-Interferon Alfa-2a and Ribavirin in Treatment Naive Subjects with Chronic Hepatitis C Genotype 1 | Mandana Khalili, MD | Egypt, Sweden, Mexico, Puerto Rico, Canada, Australia | | |
| M tuberculosis Cells from Patients with Tuberculosis | Midori Kato-Maeda, MD | Tanzania, Zimbabwe, Panama | | |
| Pathogen Discovery in PREDICT Human and Wildlife samples to Detect and Identify Viruses Present, Both Known and Novel | Charles Chiu, MD, PhD | China, Bangladesh, Indonesia, Malaysia, Mexico, Brazil, Colombia | | |
| Addressing Abortion Stigma Through Service Delivery | Ushma Upadhyay, PhD, MPH | Kenya, Uganda, Zambia, Ghana, India, Mexico | | |
| A Phase III Clinical Trial to Study the Tolerability and Immunogenicity of V503, a Multivalent Human Papillomavirus (HPV) L1 Virus-Like Particle (VLP) Vaccine, in 16- to 26- Year-Old Men and 16- to 26- Year-Old Women | Joel Palefsky, MD | South Africa, Malaysia, Thailand, Israel, Turkey, Denmark, Germany, Norway, Poland, Spain, Sweden, Mexico, Colombia, Peru, Canada | | |
| From Local Monitoring to Global Equity: Development and Evaluation of a Monitoring Tool to Measure Access to Water and Sanitation in Rural Panama | Magi Gabra, MS | Panama | | |
| Refining the Tourette Syndrome Phenotype Across Diagnoses to Aid Gene Discovery | Carol Mathews, MD | Costa Rica | | |
| Auranofin supplies to test as a macrofilaricide for human onchocerciasis | Jaime Sepulveda, MD, DSc, MPH | Belize, Costa Rica, El Salvador, Guatemala, Honduras, Mexico, Nicaragua, Panama | | |
| Systematic reviews to support the Antiretroviral Therapy (ART) Consolidated Guidelines - 2014/HTM/HIV/007 | George Rutherford, MD | Eritrea, Ethiopia, Kenya, Madagascar, Malawi, Mauritius, Mozambique, Rwanda, Somalia, South Sudan, Uganda, Tanzania, Zambia, Zimbabwe, Angola, Cameroon, Central African Republic, Chad, Congo (Kinshasa), Congo (Brazzaville), Equatorial Guinea, Gabon, Sao Tome and Principe, Algeria, Egypt, Libya, Morocco, Sudan, Tunisia, Botswana, Lesotho, Namibia, South Africa, Swaziland, Western Africa, Benin, Burkina Faso, Ivory Coast, Gambia, Ghana, Liberia, Mali, Mauritania, Niger, Nigeria, Sierra Leone, Kazakhstan, Kyrgyzstan, Tajikistan, Turkmenistan, Uzbekistan, China, South Korea, Afghanistan, Bangladesh, Bhutan, India, Iran, Maldives, Nepal, Pakistan, Sri Lanka, Cambodia, Indonesia, Viet Nam, Laos, Malaysia, Myanmar, Singapore, Thailand, Timor-Leste, Philippines, Armenia, Georgia, Iraq, Israel, Jordan, Kuwait, Saudi Arabia, Syria, Turkey, United Arab Emirates, Yemen, Bosnia and Herzegovina, Bulgaria, Croatia, Macedonia, Moldova, Slovenia, Belize, Costa Rica, El Salvador, Guatemala, Honduras, Mexico, Nicaragua, Panama, Argentina, Bolivia, Brazil, Chile, Colombia, Ecuador, French Guiana, Paraguay, Peru, Uruguay, Venezuela, Turks and Caicos Islands, Antigua and Barbuda, Aruba, Bahamas, Barbados, Cayman Islands, Dominica, Dominican Republic, Haiti, Jamaica, Saint Kitts and Nevis, Saint Lucia, Saint Vincent and the Grenadines, Trinidad and Tobago, American Samoa, Northern Mariana Islands, Guam, Fiji, Marshall Islands, Micronesia, Palau, Papua New Guinea, Samoa, Solomon Islands, Vanuatu | | |
| Office of the UN Special Envoy for Tuberculosis | Eric Goosby, MD | Burundi, Comoros, Djibouti, Eritrea, Ethiopia, Kenya, Madagascar, Malawi, Mauritius, Mozambique, Rwanda, Seychelles, Somalia, South Sudan, Uganda, Tanzania, Zambia, Zimbabwe, Angola, Cameroon, Central African Republic, Chad, Congo (Kinshasa), Congo (Brazzaville), Equatorial Guinea, Gabon, Sao Tome and Principe, Algeria, Egypt, Libya, Morocco, Sudan, Tunisia, Western Sahara, Botswana, Lesotho, Namibia, South Africa, Swaziland, Benin, Burkina Faso, Cape Verde, Ivory Coast, Gambia, Ghana, Guinea, Guinea-Bissau, Liberia, Mali, Mauritania, Niger, Nigeria, Senegal, Sierra Leone, Togo, Central Asia, Kazakhstan, Kyrgyzstan, Tajikistan, Turkmenistan, Uzbekistan, China, Hong Kong S.A.R., China, North Korea, South Korea, Macao S.A.R., China, Mongolia, Afghanistan, Bangladesh, Bhutan, India, Iran, Maldives, Nepal, Sri Lanka, Brunei, Cambodia, Indonesia, Viet Nam, Laos, Malaysia, Myanmar, Singapore, Thailand, Timor-Leste, Philippines, Armenia, Azerbaijan, Bahrain, Cyprus, Georgia, Iraq, Israel, Jordan, Kuwait, Lebanon, Oman, Palestinian Territory, Qatar, Saudi Arabia, Syria, Turkey, United Arab Emirates, Yemen, Albania, Andorra, Austria, Belarus, Belgium, Bosnia and Herzegovina, Bulgaria, Croatia, Czech Republic, Denmark, Estonia, Finland, France, Germany, Greece, Hungary, Iceland, Ireland, Italy, Jersey, Kosovo, Latvia, Liechtenstein, Lithuania, Luxembourg, Macedonia, Malta, Moldova, Monaco, Montenegro, Netherlands, Norway, Poland, Portugal, Romania, Russia, San Marino, Serbia, Slovakia, Slovenia, Spain, Sweden, Switzerland, Ukraine, United Kingdom, Belize, Costa Rica, El Salvador, Guatemala, Honduras, Mexico, Nicaragua, Panama, Bolivia, Brazil, Chile, Colombia, Ecuador, French Guiana, Guyana, Paraguay, Peru, Suriname, Uruguay, Venezuela, Caribbean, Anguilla, Turks and Caicos Islands, Antigua and Barbuda, Aruba, Bahamas, Barbados, Cayman Islands, Cuba, Dominica, Dominican Republic, Grenada, Guadeloupe, Haiti, Jamaica, Martinique, Puerto Rico, Saint Kitts and Nevis, Saint Lucia, Saint Vincent and the Grenadines, Trinidad and Tobago, Bermuda, Canada, Greenland, U.S. Virgin Islands, American Samoa, Northern Mariana Islands, Australia, Cook Islands, Guam, French Polynesia, Fiji, Kiribati, Marshall Islands, Micronesia, Nauru, New Zealand, Niue, Palau, Papua New Guinea, Samoa, Solomon Islands, Tokelau, Tonga, Tuvalu, Vanuatu | | |
| Master Member Agreement: Translational Breast Cancer Research Consortium | | Egypt, Greece, Mexico, Peru | | |
| Perceptions on the Strengthening Babies through Mobile Health Project and Breastfeeding Behavior Determinants among Mothers in Islas de Bahía, Honduras | Lyolya Hovhannisyan, MS | Honduras | | |
| Trans-disciplinary Academic Partnerships in Global Health: A Systematic Review | Poonam Patel, MS | Honduras | | |
| Evaluation of a program to improve quality supply of essential medicines and medical devices for maternal care and family planning in Honduras | Laura Pineda Velandia, MS | Honduras | | |
| The Use of a Fluoride Varnish Application for Dental Caries Prevention in Children Living in Roatán, Honduras: A Cost Analysis | Sheba Vincent, MS | Honduras | | |
| Delivering affordable gas stoves and household health education to low-income families exposed to toxic levels of woodsmoke | Lisa Thompson, RN, PhD, FNP | Guatemala | | |
| Fighting Infections through Research, Science and Technology (FIRST) Service Contract | Jaime Sepulveda, MD, DSc, MPH | Belize, Costa Rica, El Salvador, Guatemala, Honduras, Mexico, Nicaragua, Panama | | |
| Que Vivan Las Madres: Scaling Up an Integrated Approach to Reduce Maternal and Perinatal Mortality in Northern Guatemala | Dilys Walker, MD | Guatemala | | |
| Enhancing Mexican Capacity for Cardiovascular Disease (CVD) Policy Research | Kirsten Bibbins-Domingo, MD, PhD | Mexico | | |
| Metabiota - Viral Surveillance for the PREDICT Program 20150410 | Charles Chiu, MD, PhD | Rwanda, Uganda, Tanzania, Cameroon, Congo (Kinshasa), Congo (Brazzaville), Gabon, China, Bangladesh, Nepal, Cambodia, Indonesia, Viet Nam, Laos, Malaysia, Thailand, Mexico, Bolivia, Brazil, Peru | | |
| Transcriptional rewiring of aging pathways and dietary restriction effects in yeasts | | Mexico | | |
| University of California Global Health Institute Program for Fellows and Scholars | Craig Cohen, MD, MPH | Ethiopia, Kenya, Mozambique, Uganda, Tanzania, Zimbabwe, China, Bangladesh, India, Ukraine, Guatemala, Mexico, Panama, Brazil, Chile, Peru | | |
| Pharmacogenomics of Bronchodilator Response in Minority Children with Asthma | Esteban Burchard, MD, MPH | Mexico, Puerto Rico | | |
| First-line Antimetabolites as Steroid-sparing Treatment (FAST) Uveitis Trial | Nisha Acharya, MD | India, Mexico, Australia | | |
| Wood Smoke and Genetic Susceptibility to Asthma in an Honduran Population | | Honduras | | |
| Wood Smoke and Genetic Susceptibility to Asthma in An Honduran Population | | Honduras | | |
| HEAL Initiative | Phuoc V. Le, MD, MPH, DTM+H | Kenya, Malawi, Rwanda, Uganda, Tanzania, Liberia, Nepal, Philippines, Mexico, Haiti | | |
| Fighting Infections through Research, Science and Technology (FIRST) Phase 1 and 2: Creating a Partnership to Fight Neglected Infectious Disease in Mesoamerica | Jaime Sepulveda, MD, DSc, MPH | Belize, Costa Rica, El Salvador, Guatemala, Honduras, Mexico, Nicaragua, Panama | | |
| Global Fund Prospective Country Evaluations | George Rutherford, MD | Mozambique, South Sudan, Uganda, Congo (Kinshasa), Senegal, Cambodia, Myanmar, Guatemala | | |
| Validation of a Scale to Measure the Quality of Contraception Counseling | Kelsey E. Holt, ScD | Mexico | | |
| HEAL Initiative | Phuoc V. Le, MD, MPH, DTM+H | Malawi, Liberia, India, Nepal, Mexico, Haiti | | |
| Drug-Resistant Tuberculosis on the Texas-Mexico Border: Improving the Quality of bi-national TB Projects | Camila Hurtado, MS | Mexico | | |
| Community Engagement for Diabetes Management and Prevention: A Cost Analysis at Tiopa Community Health Clinic | Katie Morales, MSN, MS | Mexico | | |
| Understanding the Effects of Snake Envenomation in Livestock on the Lives of Farmers in the Southern Pacific Region of Costa Rica | Andrea Nickerson, MS | Costa Rica | | |
| Impact of Health Literacy Interventions on Outcome of Patients with Diabetes and Hypertension in Latin America and the Caribbean: A Systematic Review | Lucia Abascal, MD, MS | Mexico | | |
| Providing Environmental Health Information to Healthcare Providers along the Region 9 US-Mexico Border | Timur Durrani, MD, MPH, MBA | Mexico | | |
| Natural History, Immunity, and Transmission Patterns of Sapovirus in a Nicaraguan Birth Cohort | Caryn Bern, MD, MPH | Nicaragua | | |
| Medical education and serving remote populations | Yousef Turshani, MD | Zimbabwe, Honduras, Nicaragua, Peru, Northern Mariana Islands | | |
| Fetal Zika virus infection: role of the human placenta | Lenore Pereira, PhD | Nicaragua | | |
| Evaluating the GenteGas model: Does a women's entrepreneur social marketing program result in the sustained adoption of liquid petroleum gas stoves by the poor in Guatemala? | Lisa Thompson, RN, PhD, FNP | Guatemala | | |
| Global Anesthesia Capacity Assessment Tools | | Mexico | | |
| Open Tibia Research Project | Theodore Miclau, MD | Costa Rica, Mexico, Nicaragua, Panama, Argentina, Bolivia, Brazil, Chile, Colombia, Ecuador, Paraguay, Peru, Uruguay, Venezuela, Cuba | | |
| Intervention for attention deficit hyperactivity disorder | Lauren Haack, PhD, MD, MPH | Mexico | | |
| Improving Diabetes Counselling Guides for Post-Partum Latina Moms | Margaret Handley, PhD, MPH | Mexico | | |
| Outcomes of pregnant and parenting adolescents | Abigail Gutmann-Gonzalez, MPH | Mexico | | |
| Household air pollution and health: a Multi-country LPG Intervention Trial-Core | Lisa Thompson, RN, PhD, FNP | Rwanda, India, Guatemala, Peru | | |
| Pegylated Interferon Lambda w/wo Daclatasvir, Compared to Pegylated Interferon Alfa, Plus Ribavirin in Subjects With Hepatitis C Genotype 2 and 3 | Mandana Khalili, MD | South Korea, Japan, India, Singapore, Belgium, Finland, France, Greece, Italy, Netherlands, Russia, United Kingdom, Mexico, Argentina, Brazil, Chile, Canada, Australia, New Zealand | | |
| Infection Control Training Program: Hand Hygiene in Roatán, Honduras | Alexis Stanley, MS | Honduras | | |
| Relationship Attitudes among Pregnant Adolescents and Adolescent Mothers in Guanajuato, Mexico and Fresno, California: A Qualitative Study | Tannia MacKethan, MS | Mexico | | |
| Population-based HIV Impact Assessments in Resource-Constrained Settings under the President's Emergency Plan for AIDS Relief (PEPFAR) | George Rutherford, MD | Burundi, Ethiopia, Kenya, Malawi, Mozambique, Rwanda, South Sudan, Uganda, Tanzania, Zambia, Zimbabwe, Angola, Cameroon, Congo (Kinshasa), Congo (Brazzaville), Botswana, Lesotho, Namibia, South Africa, Swaziland, Ivory Coast, Ghana, Nigeria, Kazakhstan, Kyrgyzstan, Tajikistan, Turkmenistan, Uzbekistan, China, India, Cambodia, Indonesia, Viet Nam, Laos, Thailand, Ukraine, Belize, Costa Rica, El Salvador, Guatemala, Honduras, Nicaragua, Panama, Suriname, Antigua and Barbuda, Bahamas, Barbados, Dominica, Dominican Republic, Grenada, Haiti, Jamaica, Saint Kitts and Nevis, Saint Lucia, Saint Vincent and the Grenadines, Trinidad and Tobago, Papua New Guinea | | |
| Leveraging mosquito antiviral immunity to detect viral infections: Towards a scalable field-based approach for predicting arbovirus epidemics | Raul Andino-Pavlovsky, PhD | Mexico | | |
| MicroRNAs Circulantes Asociados Con Riesgo De Diabetes En Latinos | Elena R. Flowers, PhD, RN | Mexico | | |
| International Network for Strategic Initiatives in Global HIV Trials (INSIGHT): START | Richard Price, MD | Uganda, Morocco, South Africa, Mali, Nigeria, China, Japan, India, Malaysia, Thailand, Israel, Mexico, Brazil, Chile, Peru, Uruguay, Australia | | |
| Strategic Information Technical Assistance Consortium | George Rutherford, MD | Ethiopia, Kenya, Malawi, Mozambique, Rwanda, South Sudan, Uganda, Tanzania, Zambia, Zimbabwe, Angola, Cameroon, Congo (Kinshasa), Botswana, Lesotho, Namibia, South Africa, Swaziland, Ivory Coast, Ghana, Nigeria, Kazakhstan, Kyrgyzstan, Tajikistan, Turkmenistan, Uzbekistan, China, India, Cambodia, Indonesia, Viet Nam, Laos, Thailand, Ukraine, Belize, Costa Rica, El Salvador, Guatemala, Honduras, Nicaragua, Panama, Guyana, Antigua and Barbuda, Bahamas, Barbados, Dominica, Dominican Republic, Grenada, Haiti, Jamaica, Saint Kitts and Nevis, Saint Lucia, Saint Vincent and the Grenadines, Trinidad and Tobago, Papua New Guinea | | |
| Prenatal household air pollution exposure: gas stove and behavioral interventions | Lisa Thompson, RN, PhD, FNP | Guatemala | | |
| The influence of Diet, Genetics, and Tooth Decay on Dentofacial Development, and Perceptions of Oral Health Related Quality of Life in Mayan and Inca Adolescents | Kjeld Aamodt, DDS, MS | Guatemala | | |
| Institute for Global Orthopedics and Traumatology (IGOT) | Richard Coughlin, MD | Ethiopia, Kenya, Malawi, Mozambique, Rwanda, Seychelles, Uganda, Tanzania, Zambia, Zimbabwe, Cameroon, Congo (Kinshasa), Congo (Brazzaville), Egypt, Morocco, Botswana, Namibia, South Africa, Ivory Coast, Ghana, Liberia, Mali, Niger, Nigeria, Sierra Leone, Kazakhstan, Tajikistan, Uzbekistan, China, Afghanistan, Bangladesh, India, Nepal, Viet Nam, Thailand, Philippines, Costa Rica, El Salvador, Guatemala, Honduras, Mexico, Nicaragua, Brazil | | |
| Blood safety standards and lab capacity in low & mid income countries | Elizabeth Donegan, MD | Sierra Leone, Indonesia, Philippines, Armenia, Moldova, Guatemala, Honduras, Peru, Dominica, Haiti | | |
| Child Family Health International (CFHI) | Jessica Evert, MD | Uganda, Tanzania, South Africa, Ghana, India, Philippines, Mexico, Argentina, Bolivia, Ecuador | | |
| Orthopedic Surgery and Anesthesia access in underserved areas | John Feiner, MD | Mexico, Nicaragua, Bolivia, Ecuador, Dominican Republic | | |
| Morgan and Madison McClellan International Research Fellow | Trigg McClellan, MD | Malawi, Tanzania, South Africa, Ghana, Nicaragua | | |
| Compañeros en Salud in Chiapas, Mexico | Patrick Newman, MD, MPH | Mexico | | |
| Roatan Volunteer Pediatric Clinic in Roatan, Honduras | Arup Roy-Burman, MD, FAAP | Honduras | | |
| Barriers to medication access at Roatan Public Hospital | Sylvia Stoffella, PharmD | Honduras | | |
| Developing pain management curricula | Ramana Naidu, MD | Honduras, Brazil | | |
| Enhancing Mexican Capacity for CVD Policy Research | Alicia Fernandez, MD | Mexico | | |
| Heal Initiative | Phuoc V. Le, MD, MPH, DTM+H | Liberia, India, Nepal, Mexico, Haiti | | |
| Global Orthopaedics and Traumatology (IGOT) | Theodore Miclau, MD | Mexico, Cuba | | |
| Individual, social, and structural factors on disease transmission in marginalized populations | Meghan Morris, PhD, MPH | Tanzania, Namibia, Mexico, Jamaica, Australia | | |
| Health systems analysis | John Peabody, MD, PhD | Philippines, Mexico | | |
| Executive Director of UCSF Global Health Sciences | Jaime Sepulveda, MD, DSc, MPH | Ethiopia, Kenya, Rwanda, Uganda, Tanzania, Zimbabwe, Mexico | | |
| Interprofessional teamwork in support of global health | Mary Lynch, RN, MPH, MA, FAAN | Honduras | | |
| Global Brain Health Institute | Victor Valcour, MD, PhD | South Africa, Viet Nam, Turkey, Greece, Mexico, Argentina, Brazil, Cuba, Dominican Republic | | |
| Improving care for vulnerable populations | Marlene Martin, MD | Nepal, Mexico | | |
| Epidemiology and clinical manifestations of chlamydial infections | Julius Schachter, PhD | Ethiopia, Niger, India, Nepal, Thailand, Mexico | | |
| Ultrasound training in resource poor settings | Jeanne Noble, MD | Mexico | | |
| Chlamydial sexually transmitted diseases and trachoma | Deborah Dean, MD, MPH | Nepal, Viet Nam, Thailand, Guatemala, Mexico, Nicaragua, Ecuador | | |
| iBiology: Bringing the worlds best biology to you | Ronald Vale, PhD | Burundi, Kenya, Malawi, Mauritius, Rwanda, Seychelles, South Sudan, Uganda, Tanzania, Zambia, Zimbabwe, Cameroon, Sudan, Botswana, Lesotho, Namibia, South Africa, Swaziland, Gambia, Ghana, Liberia, Nigeria, Sierra Leone, India, Nepal, Pakistan, Singapore, Philippines, Ireland, Malta, Belize, Guyana, Antigua and Barbuda, Bahamas, Barbados, Dominica, Grenada, Jamaica, Saint Kitts and Nevis, Saint Lucia, Saint Vincent and the Grenadines, Trinidad and Tobago, Bermuda, Canada, Greenland, American Samoa, Northern Mariana Islands, Cook Islands, Fiji, Kiribati, Marshall Islands, Micronesia, Nauru, New Zealand, Niue, Palau, Papua New Guinea, Samoa, Solomon Islands, Tokelau, Tonga, Tuvalu, Vanuatu | | |
| Heal Initiative | Sriram Shamasunder, MD | Malawi, Liberia, Mali, India, Nepal, Mexico, Haiti | | |
| Roatan Volunteer Pediatric Clinic in Roatan, Honduras | Sheila Jenkins, MD | Honduras | | |
| Substance abuse in vulnerable populations | Meredith Meacham, PhD | Mexico | | |
| The Globalized Food Industry in Mexico | Laura Schmidt, PhD | Mexico | | |
| Project Nino | Mansi Desai, MD | Mexico | | |
| ATS Implementation Guide and Training Modules | Philip Hopewell, MD | Kenya, Tanzania, China, India, Nepal, Indonesia, Mexico | | |
| Promoting Woman-Centered, Rights-Based Client-Provider Interactions: Adaptation and Dissemination of the Quality of Contraceptive Counseling Scale | Kelsey E. Holt, ScD | Ethiopia, India, Mexico | | |
| Achieving Global Malaria Eradication through Accelerated Regional Elimination | Richard Feachem, DSc, PhD | Sao Tome and Principe, Algeria, Botswana, Namibia, South Africa, Swaziland, Cape Verde, Tajikistan, China, North Korea, South Korea, Bhutan, Iran, Nepal, Sri Lanka, Viet Nam, Malaysia, Thailand, Philippines, Azerbaijan, Saudi Arabia, Turkey, Belize, Costa Rica, El Salvador, Guatemala, Honduras, Mexico, Nicaragua, Panama, Paraguay, Solomon Islands, Vanuatu | | |
| Molecular Basis of Hereditary Retinal Degenerations | Jacque Duncan, MD | India, Pakistan, Mexico | | |
| Enabling Better Planned Transitions of Malaria Programming from Global Fund Financing to Domestic Financing | Sara Fewer | Eritrea, Ethiopia, Kenya, Malawi, Mozambique, Rwanda, Somalia, South Sudan, Uganda, Tanzania, Zambia, Zimbabwe, Cameroon, Central African Republic, Chad, Congo (Kinshasa), Congo (Brazzaville), Equatorial Guinea, Benin, Burkina Faso, Ivory Coast, Gambia, Ghana, Guinea, Guinea-Bissau, Liberia, Mali, Niger, Afghanistan, Bangladesh, India, Nepal, Brunei, Cambodia, Myanmar, Honduras, Cuba, Haiti | | |
| Implementation of The Global Fund's Programmatic Quality Assurance and Improvement Approach | George Rutherford, MD | Burundi, Eritrea, Ethiopia, Kenya, Madagascar, Malawi, Mozambique, Rwanda, Somalia, South Sudan, Uganda, Tanzania, Zambia, Zimbabwe, Central African Republic, Chad, Congo (Kinshasa), Congo (Brazzaville), Lesotho, Benin, Burkina Faso, Gambia, Guinea, Guinea-Bissau, Liberia, Mali, Niger, Sierra Leone, Togo, Kyrgyzstan, North Korea, Afghanistan, India, Nepal, Laos, Syria, Honduras | | |
| A cross-national perspective on social integration and cognitive aging for Mexican-origin adults in the U.S. and Mexico: Quantifying the effects of both local and cross-border social integration | Jacqueline Torres, PhD | Mexico | | |