Caribbean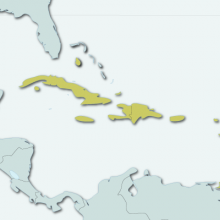 The Prevention and Public Health Group (PPHP, formerly the Institute for Global Health) and the International Training and Education Center on HIV (I-TECH) have active technical assistance and capacity-building programs in the Caribbean. Researchers with clinical trials of hepatitis C medications have sites in Puerto Rico, among other locations.
In the arena of medical education, the UCSF-Cuba Research Programme in Health Diplomacy and Medical Education works to provide cross-cultural training opportunities for medical students and clinicians.
UCSF anthropologist Ian Whitmarsh has done ethnographic research in Barbados on the formation of new disease categories through genetic research on asthma.