Development of simulation-based anesthesia education for resource-constrained practice environments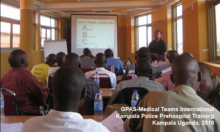 Investigator:
Michael Lipnick, MD
Sponsor:
Global Partners in Anesthesia and Surgery (GPAS)
Location(s): Uganda
Description
GPAS and partners are working with the Departments of Surgery, Anesthesia, Accident and Emergency, and Obstetrics at Mulago to explore strategies for improving the quality of the educational environment for trainees.
Improved education infrastructure was identified as priority by a local needs assessment in 2006. Since that time, we have been working on various projects to help address this issue.
GPAS is currently in the process of surveying trainees to assess the impact of these education projects in order to help refine our collaboration with Mulago and Makerere, and apply what we have learned at other project sites.
Curriculum development (Anesthesia, Surgery, Orthopedics, Obstetrics)
Creation of Senior Scholar teaching positions (Chief Resident)
Annual resident research competition grants
eLearning – using Makerere's existing Moodle eLearning platform
Creation of an annual Advanced Trauma Course
Creation of a resident resource room
Improved on-call support
Upcountry hospital rotations during training
Increased trainee mentorship
Knot-tying skills course for interns in Ob/Gyn at Mulago
Distance learning courses
Visiting pediatric surgery faculty support at Mulago and Soroti Hospitals, assisting in education of medical students, post graduates, and pediatric surgical fellowship trainees