Western Africa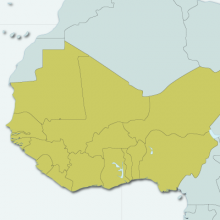 UCSF researchers have been actively involved with capacity building and technical assistance for HIV care and prevention in Western Africa. Prevention and Public Health Group (PPHG) (formerly the Institute for Global Health) supports PEPFAR implementation in Nigeria, among other countries.The International Teaching and Education Center for Heath (I-TECH) is involved with the development of electronic laboratory information systems for 3 central laboratories, and rapid scale-up for HIV care and treatment services in Cote d'Ivoire.
UCSF researchers also work on malaria in the region, exploring malaria drug resistance and supporting countries in their malaria elimination efforts. The Proctor Foundation addresses trachoma in The Gambia and Niger.
Suellen Miller's group, the Safe Motherhood Initiative, works on a device to address obstetric hemorrhage in Nigeria.