Southern Asia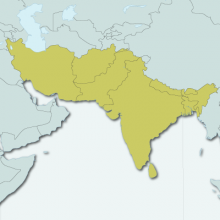 Much of UCSF's work in Southern Asia is in India. Several investigators study the epidemiology of HIV and HPV-related neoplasias among Indian MSM. Other researchers have looked at HIV risk, health promotion, and antiretroviral treatment adherence in India. Suellen Miller's research project on devices to address obstetric hemorrhage has study sites in India.
The Malaria Elimination Initiative of UCSF's Global Health Group (GHG) has been involved in regional efforts to control malaria, focusing on Nepal, Sri Lanka, and Bhutan. The Proctor Foundation has projects for preventing blindness caused by infectious diseases of the eye (principally trachoma and keratitis) in Nepal and India.
UCSF researchers are involved in projects detecting viral pathogens associated with encephalitis, studying substance-using populations in Iran, and examining abortion and contraception services in Nepal.